The "Once & Always" continuing to march the veterans' agenda forward for those who proudly served.
Wishing you a Happy and Safe
New Year
In the joyous spirit of Christmas, during your meal-time reflections, keep your thoughts and prayers of our Uniformed men & women who are proudly and honorably serving around the globe, away from their families.  Saepius Exertus, Semper Fidelis, Frater Infinitas – Often Tested,  Always Faithful,  Brothers/sisters Forever.  chiMAR gm
81st Anniversary of Pearl Harbor
December 7th, 2022 marks 81 years since the air fusillade on Pearl Harbor.  Each year, the Chicago MARINES, along with Veterans Organizations, community groups and individual Veterans assist in Cook County as we assemble to Honor and pay homage in the Remembrance to those who made the ultimate sacrifice that day.   
Celebrating 247 years of the U.S. Marine Corps.
November 10, 1775 – November 10, 2022

General John A. Lejeune's Birthday Message
"On November 1st, 1921, John A. Lejeune, 13th Commandant of the Marine Corps, directed that a reminder of the honorable service of the Corps be published by every command, to all Marines throughout the globe, on the birthday of the Corps. Since that day, Marines have continued to distinguish themselves on many battlefields and foreign shores, in war and peace. On this birthday of the Corps, therefore, in compliance with the will of the 13th Commandant, Article 38, United States Marine Corps Manual, Edition of 1921, is republished as follows:

"'(I) On November 10,1775, a Corps of Marines was created by a resolution of the Continental Congress. Since that date many thousand men have borne the name Marine. In memory of them it is fitting that we who are marines should commemorate the birthday of our corps by calling to mind the glories of its long and illustrious history. 
" '(2) The record of our corps is one which will bear comparison with that of the most famous military organizations in the world's history. During 90 of the 146 years of its existence the Marine Corps has been in action against the Nation's foes. From the Battle of Trenton to the Argonne, marines have won foremost honors in war, and in the long eras of tranquillity at home generation after generation of marines have grown gray in war in both hemispheres, and in every corner of the seven seas that our country and its citizens might enjoy peace and security.
" '(3) In every battle and skirmish since the birth of our corps marines have acquitted themselves with the greatest distinction, winning new honors on each occasion until the term marine has come to signify all that is highest in military efficiency and soldierly virtue.
" '( 4) This high name of distinction and soldierly repute we who are Marines to-day have received from those who preceded us in the corps. With it we also received from them the eternal spirit which has animated our corps from generation to generation and has been the distinguishing mark of the marines in every age. So long as that spirit continues to flourish marines will be found equal to every emergency in the future as they have been in the past, and the men of our Nation will regard us as worthy successors to the long line of illustrious men who have served as "Soldiers of the Sea" since the founding of the corps.'
"The inspiring message of our 13th Commandant has left its mark in the hearts and minds of all Marines. By deed and act from Guadalcanal to Iwo Jima, from Inchon to the Korean Armistice, in interventions from Lebanon to the Dominican Republic, and from the opening battles in Vietnam to the Mayaguez rescue, Marines have continued to epitomize those qualities which are their legacy. The success which they have achieved in combat and the faith they have borne in peace will continue. The Commandant and our many friends have added their hearty praise and congratulations to this, our _____ birthday (underscore supplied.)
A MESSAGE FROM THE COMMANDANT OF THE MARINE CORPS
70 years ago, Army Major General Frank E. Lowe was quoted as saying, "The safest place in Korea was right behind a platoon of Marines. Lord, how they could fight." That testimonial rings as true now as it did then, and will remain so tomorrow. As we celebrate the 247th anniversary of our Corps' founding, we reflect on nearly two and a half centuries of exceptional prowess, while also taking objective stock of where we are today and how we will prepare for future battlefields. Our birthday provides us a chance to focus on the one thing common to our success in the past, present, and future: the individual Marine. Victories are not won because of technology or equipment, but because of our Marines.
          Since 1775, Marines have fought courageously and tenaciously in every conflict our country has faced. Through the Revolution, the Spanish-American War, World Wars in Europe and the Pacific, conflicts in Korea and Vietnam, and operations in the Middle East, Marines consistently earned a reputation as the world's elite fighting force. We inherit and take pride in this reputation, evolved over time by Marines acquitting themselves with honor and distinction on every battlefield in every clime and place. Battlefields change, and Marines have always adapted to the environment and the changing character of war – but the reason we fight and win is immutable. It's the individual warfighters, and their love for each other, that makes our Corps as formidable a force today as it has been for the past 247 years. It's our ethos and our unapologetic resolve to be the most capable and lethal fighting force that sets us apart from the rest.
          Current events around the world remind us that peace is not guaranteed. While we are justifiably proud of our past and pay tribute to the remarkable warfighters who came before us, we understand that the stories of yesterday cannot secure our freedom tomorrow. We must be ready to respond when our Nation calls. It falls on Marines who are in uniform today to write the next chapter of our Corps. The solemn responsibility of maintaining our illustrious warfighting legacy rests upon your shoulders. I know that you are up to that task. The battlefields of tomorrow are uncertain. The future characteristics of warfare are uncertain. But one thing is certain – wherever Marines are called, they will fight and win – today, tomorrow, and into the future.
          Happy 247th Birthday, Marines!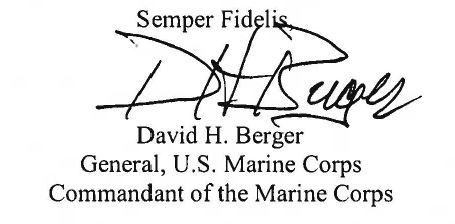 There are no upcoming events at this time
S.810 - Fair Care for Vietnam Veterans Act of 2021
In hopes of passage by this November 2022.
The Senate Veterans' Affairs Committee scheduled a hearing last month March 2022, to review  AGENT ORANGE Exposure and other related hazardous toxins to include chemicals such as Foam Retardant Agents, Burnpits and their effects, etc.   They may also extend and include exposure locations in or near Vietnam, Laos, Guam, Cambodia, Thailand and the American Samoa for Veterans who served in-Country through May 1975.   Both US Senators Durbin and Duckworth from Illinois are current sponsors to S-810, having support of only 1/5 of the US Senate members. 
S/F chiMAR.
Copyright 2022 Once & Always Organization
Disclaimer: The United States Marine Corps nor the US Departments of both State and Defense has neither endorsed, approved or authorized any part or materials of this website.